3 minutes reading time
(614 words)
Attitude of Success
If you take a look at powerful, successful people, you might be surprised to find that generally they don't have extraordinarily high IQ's. They are ordinary, average people, like you and me.
So if these seemingly 'normal' people can achieve such success, how do they do it? What qualities and characteristics do they exhibit that make them different from the rest of the population?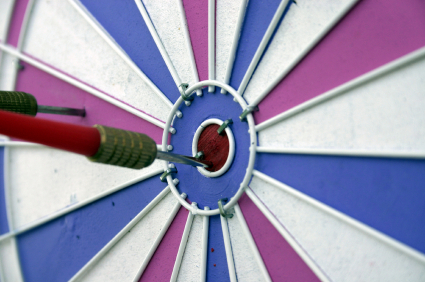 In my opinion, it is that they have an attitude for success, a attitude that requires three specific things: action, focus, and determination.
Take Action
One thing that all successful people have in common is they got started! You may have heard of 'analysis paralysis' - where people get so bogged down in nitty-gritty details that they aren't able to move forward. Accountants like myself do this all the time......ready, aim, aim, aim, aim, aim......we never get to fire!
You don't need to wait until everything is perfect before "fire". There will never be a point in time when everything is perfect. Instead, just do your research and implement your plan.
Stay Focused
My most successful clients are extremely focused. In fact, those are the ones that pay us the most amount of money. Why are they paying money to our CPA firm? They use us to keep track of the things they aren't good at. They know they are really good at operations and marketing, but not at accounting. So they focus on what they do best. We are there to fill in the talent void for them until they get big enough to hire their own accounting staff.
The lesson is to focus on a select range of activities that you are good at. Don't let your time be spent learning something you can hire someone else to do.
Does getting your business to $50 million in sales in under 10 years sound exciting. That is what two of our clients have done by focusing on what they do best...and of course we focused on what they didn't do best.
Be Determined
Along the way, you may face trials and tribulations and have doubt. You may have those that are close to you tell you that "it will never happen, you can't do that." You may even fail a time or two, but I encourage you to never give up, never throw in the towel and bow out. Be strong in your faith and have a great determination that says "I will, in spite of....!"
By accepting that you're not perfect and that things will go wrong along the way, you should be able to dust yourself off and get back up whenever you stumble. Determination is what separates an extremely successful person from the rest of the population.
So Do You Have What it Takes?
Do you take action, have focus, and determination? If you truly want to achieve the best possible outcome, then get out of your comfort zone and take action! Focus on your goals and how you are going to get there! Above all else, try, try again!
Work, Work, Work
Despite our pleas to take action early, some procrastinator clients have slammed us with last minute complex tax issues that impact the returns that must be filed by the final deadline on Monday. So this weekend will be filled with work for me!
Over the next three months, I will be pushing on every one of you to get into our office and do tax planning. We are headed into "Taxmageddon" so you better have a plan. If you don't, then as Clint Eastwood said as he held his 357 Magnum to the head of the robber "You've got to ask yourself one question: "Do I feel lucky?"