2 minutes reading time
(479 words)
Change Your Life in 2012... continued
I hope you all have been enjoying your New Year's and sticking to those resolutions!

Last week, I sent you an email containing 3 New Year's Resolutions that could have been applied to your daily life immediately and started you on your way to changing your life and your business in 2012. Do you remember what those 3 resolutions are?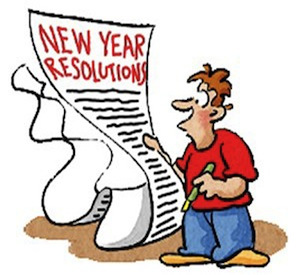 Here's a recap:
Work Smart - Get organized and improve your time management skills. Prioritize your routine. Apply 80/20 Rule when planning your day. Delegate "lesser" activities.
Invest Money in You - Invest money back into yourself to improve, deepen or broaden your marketable skills.

Get Financial and Tax Advice - Schedule a consultation with your trusted advisers who can let you know what areas of your business could stand some improving.
Once you are able to implement the first three resolutions, get the most 'bang' by building upon them with the following:
Accept Change – Change is the only constant – It is as true today as it has ever been and it is extremely relevant when applied to the world of business. Embracing change is vital to your business' ongoing success; failure to accept change or to even fight it will only have you facing disaster. Effective businesses will embrace the challenge, will prepare to address the risks that change bring and be brave enough to adjust everything in their business model to survive and continue to succeed.
Take Intelligent Risks – By taking smart risks, businesses have the opportunity to increase their performance and even dominate their market. To do this, a business should weigh the potential consequence of the risk against the profitability it could gain if the risk is successful. To continue evolving – you must be willing to take risks. Find an intelligent risk you can take today – you'll gain courage just making the attempt.
Evolve – Think of creative ways to introduce new opportunities. Take your advertising online; build a website, participate in social media marketing, purchase Google Ads, etc – you will introduce yourself to an entire new market who never even knew you existed. Offer another product or service that will add value and increase demand of your current product or service. ---- For example, 10 years ago, I was offering basic CPA services until a client wanted something more – he needed someone he could trust with real experience to take care of his books. That is when I began offering outsourced bookkeeping. Since then we have evolved from a typical CPA office to a CPA Firm that provides proprietary "cloud" bookkeeping services, giving our clients immediate access to their financial records.
I guarantee if you are able to put these resolutions into effect in your daily activities, 2012 will begin to look more like the life you have always imagined for yourself, your family & your business.