3 minutes reading time
(687 words)
Changes Are Coming... No Matter What!
Last week, the Supreme Court heard three days of arguments regarding the constitutionality of the Health Care Act of 2010. The Supreme Court will release its decision in June. As I see it, the options the court has are to uphold the law in its entirety, throw out all of it, or cut parts of it. Whatever the decision, we will do our best to keep you abreast of the impact upon you, the small business owner.
Whatever the courts decision, the impact upon you, the small business owner, is significant and you will have to make changes to comply with the law.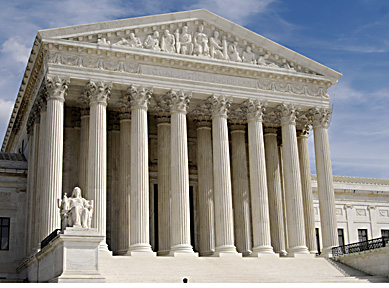 But the Supreme Court case underscores the challenges our county is facing, what is coming is the potential for significant change. In fact, as a nation....
......Change and Instability is all Around Us
These are truly historic times we are living in. We have:

• A landmark decision about to be handed down by the Supreme Court,
• First presidential elections where campaign spending is uncapped
• The European Union is being tested with financial failures in member countries that is impacting our economy
• Record deficits a divided Congress cannot seem to get under control.
In the tax world I live in, massive changes are coming without the Supreme court changing the healthcare act. At the end of 2012 the Bush tax cuts will expire as well as other tax cuts. This will cause:
• Taxpayers will see an increase in their tax rates ranging from 3 to 5%.
• The maximum rate on capital gains will go up from 15% to 20%.
• Phase out for personal exemptions and itemized deductions on certain taxpayers will begin again, increasing taxes.
• The marriage tax penalty will return causing some married taxpayers to pay more than if they filed single.
• 50% bonus depreciation will expire
• Section 179 expensing deduction limit will drop to $25,000,
• Qualified leasehold improvements will no longer be depreciated over 15 years but will revert to 39 years.
• The social security tax cut for employees expires too.
The small business owner will not be able to escape the impact of these tax increases.
It's not all Bad
On the positive side, our national economy is adding jobs. Looking at our client base, we see growth in many different industries, primarily the oil and gas related businesses. Our construction clients that survived the downturn are busy again. There are many good signs of economic recovery.
My Take on All These Changes
This recession has not been the normal recession. We are in a "balance sheet" recession caused by too much debt and we will continue to have a long slow climb out. The jobs that are being created barely keep up with population growth and cannot put everyone back to work that was employed prior to 2008. Do not get caught up in the optimism and hype.
Tax law changes will continue to be last minute and politically motivated and an over haul of the tax system is not likely this year. I urge all of our clients to keep in contact with us on the changes in your business this year. With higher revenues comes more tax. If you are not getting tax planning services, sign up for them. Only through tax planning can we help you build strategies that will help you keep more of your hard earned cash in your pocket! At tax preparation time, if you haven't been doing any tax planning, the mistakes have been made and all we can do is minimize the damage. Tax planning at tax preparation time is not tax planning..... it is simply the bug trying not to hit the windshield of a speeding car!
No matter what your view of the future is, don't lose sight of the wonders before you today. A beautiful weekend is in the forecast and I am looking forward to the pleasantly mild weather. My kids are coming in for the weekend from college and I will be spending time with them catching up on their busy lives. I hope each of you have a chance to spend time with friends and family enjoying the wonderful spring weather.
Related Posts