4 minutes reading time
(724 words)
Lessons From JoePa
Yesterday, Penn State's legendary football coach, Joe Paterno was laid to rest. He passed away on Sunday at the age of 85. Many of you may be aware of Joe because of the recent scandal that rocked Penn State and its football program costing Joe the job he held for almost 46 years. The scandal was the result of one man's alleged unspeakable acts with young boys at Penn State's football facilities, the failure of Joe's superiors to act more strongly on what he reported to them, and Joe's failure to "do more" when his superiors did not act in a stronger fashion.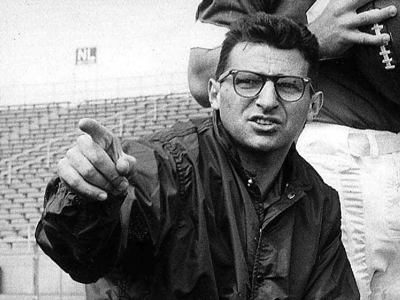 Many stones have been cast at Joe by the large majority of commentators and writers in the sports media as well as bloggers and webmasters on the internet. He has been great fodder for lesser men who claim they would have done more than Joe all while hurling their stones of contempt and judgment from a safe distance. Joe has judged himself saying "I wish I had done more".
Today, I choose to take a different approach. I will not cast stones, but will look at his life time of success as head coach of Penn State's football program. JoePa taught more lessons to his football players, students, and coaches than any other football coach at a major university. Joe accomplished this feat because he believed he was more of an educator than a coach.
What Joe accomplished while at Penn State is no minor feat.....
2 National Championships
7 undefeated seasons
87% graduation rate
No rules violations or sanctions by the NCAA
He won 409 games, more than any other football coach
Donated over $4 million to Penn State's academic programs
Library at Penn State named after Joe and his wife Sue
In the 25 years they have been eligible (all within Paterno's tenure), the Lions have been recognized by the American Football Coaches Association (AFCA) 21 times in their annual Academic Achievement Award survey.
In 2011, the Lions also earned the top spot in the fifth-annual Academic BCS rankings, as determined by New America Foundation's Higher Ed Watch.
Penn State has had 47 Academic All-Americans in football, with 37 earning first team honors. The Lions' all-time total of 49 Academic All-America football players ranks third among all FBS institutions
So how did Joe accomplish so much? Here are four of Joe's philosophies that he applied every day....
Strive for Excellence:
Joe once said "there are many people, particularly in sports, who think that success and excellence are the same thing. They are not the same thing. Excellence is something that is lasting and dependable and largely within a person's control. In contrast, success is perishable and is often outside our control. If you strive for excellence, you will probably be successful eventually. People who put excellence in the first place have the patience to end up with success. An additional burden for the victim of the success mentality is that he is threatened by the success of others and he resents real excellence. In contrast, the person that is fascinated by quality is excited when he sees it in others." He also said "losing a game is heartbreaking. Losing your sense of excellence or worth is a tragedy."
Focus on the details:
Paterno saw football as a technical field, more than mere competition. He pored over the smallest details and demanded his players do the same. "Take care of the small stuff and the big things will take care of themselves," was one of Joe's messages. He also would say "the will to win is important, but the will to prepare is vital."
Success with Honor:
Joe believed in winning with honor. He would tell his players to hit the opponent hard and then give them a helping hand back up to their feet. He preached, "Success without honor is an unseasoned dish; it will satisfy your hunger, but it won't taste good."
Believe in Yourself:
Joe always encouraged those around him to reach for the stars. "Believe deep down in your heart that you're destined to do great things." He also said "besides pride, loyalty, discipline, heart, and mind, confidence is the key to all the locks". Many of Joe's former players went on to become CEO's, doctors, scientists, CPA's, lawyers, sports commentators, football coaches, as well as NFL football players.