Most of you are familiar with Form 1099. As you know on your tax return, you always want to declare sales greater than your total 1099's received.
However, there is a new form in town.... the 1099-K and it doesn't play fair.

In 2008, President Bush signed into law a bill known as The Housing and Economic Recovery Act of 2008. Now businesses that accept credit and debit cards (or 3rd party networks, such as Paypal) when making sales to customers are receiving this form from their credit card processing company. The 1099-K reports the total gross payment transactions for the year........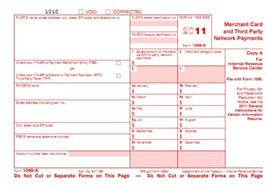 So what does this mean to the small business owner?