The IRS is giving us all a couple of extra days to get our returns or extensions filed. This year the Tax Day deadline has been extended to April17th, 2 days later than the usual date of April 15th. This deadline is only changed if April 15th: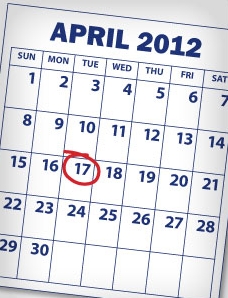 Falls on a Sunday
Falls on D.C.'s Emancipation Day
During a presidentially-declared disaster such as Hurricane Katrina.
Well, this year it is 2 of the 3. The 15th falls on a Sunday and Monday, the 16th, is Emancipation Day for the District of Columbia. The District of Columbia holidays are treated like federal holidays - postponing our annual Tax Day until Tuesday, April 17th.
What is D.C.'s Emancipation Day?