"Taxgiving" Day Extended to April 17th
The IRS is giving us all a couple of extra days to get our returns or extensions filed. This year the Tax Day deadline has been extended to April17th, 2 days later than the usual date of April 15th. This deadline is only changed if April 15th: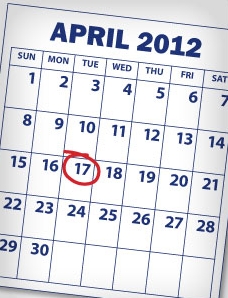 Falls on a Sunday
Falls on D.C.'s Emancipation Day
During a presidentially-declared disaster such as Hurricane Katrina.
Well, this year it is 2 of the 3. The 15th falls on a Sunday and Monday, the 16th, is Emancipation Day for the District of Columbia. The District of Columbia holidays are treated like federal holidays - postponing our annual Tax Day until Tuesday, April 17th.
What is D.C.'s Emancipation Day?
On April 16th 1862, President Abraham Lincoln signed the Compensated Emancipation Act for the release of certain persons held to service or labor in the District of Columbia. The Act freed about 3,100 slaves in the District of Columbia and compensated owners for releasing their slaves; making D.C. the first to abolish slavery. President Lincoln did not issue his famous Emancipation Proclamation for another nine months.
This day kind of has a double meaning for D.C.; it commemorates the emancipation of slaves but also has a symbolic meaning as far as D.C. being emancipated, eventually, from federal government control over local issues.
Emancipation Day was celebrated yearly in D.C. from 1866 to 1901 with parades and festivals until a lack of financial support forced it to stop. These celebrations were resumed 101 years later in 2002 and eventually became an official holiday in 2005.
How are we "celebrating" Emancipation Day?
We are definitely taking advantage of these two extra days. We will be able to get more returns completed, helping our clients avoid extensions. While our internal deadline for getting your documents to us for your return to be completed by April 17th has already passed, we are still available to assist you or someone you know with filing an extension within the next 5 days.
If you know somebody who needs to get their taxes completed but can't because their records are in such bad shape, they may be interested in our small business accounting and tax services. I'll appreciate it if you tell them about us and have them give me a call or email me for a free consultation to discuss services options.