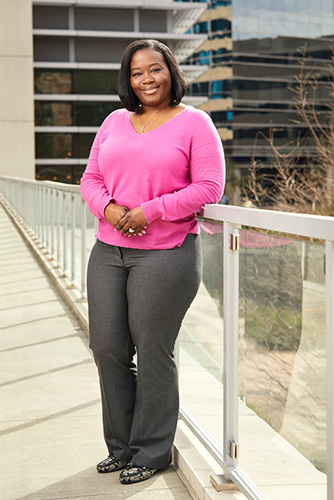 Why Fisher CPA?
While being laid off, I had a lot of time to think and plan as to what I would do with my professional career. After interviewing with Fisher, I knew what my next step should be. The interviewing process with Fisher was thorough and wasn't easy; however, the team was very welcoming. After meeting the team, I was convinced this was the place for me. I am gaining experience by working with clients and co-workers while expanding my skills and, more importantly, enjoying work-life balance. By being a small diverse firm, Fisher has the ability to offer different kinds of expertise to their clients. If one person doesn't know something; someone else within the firm will. This allows us to learn and grow with each other.
Why Me?
I have over 15 years of experience in accounting. Over the years I have gained knowledge in trust compliance, non-profit, multi-family/commercial real estate and public accounting. Also, I have owned my own business. I feel that I am the world's "best-kept-secret". I have so much to offer in terms of accounting and business. I feel that my career will blossom working for Fisher.
Bachelors of Business Administration in Accounting from University of Houston Downtown
Masters of Business Administration in Management from Our Lady of the Lake University
Graduated with honors and became a member of Delta Mu Delta International Honor Society in Business.
About Me
I have been married for almost 20 years and have two wonderful kids Jayla (girl) and Javon (boy). My son, the oldest, is a college student at University of Houston studying Computer Science and my youngest, Jayla, is a freshman in High School. Due to my daughter being on a Varsity Soccer league for Klein High and Club Soccer, my weekends are not weekends! When I'm not running to a soccer game, I spend time cooking and baking. I love watching the Food Network Channel.